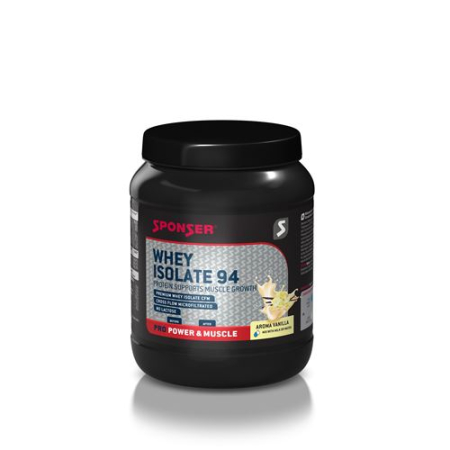 Sponser Whey Isolate 94 Vanilla Can 850 g
Sponser Whey Isolate 94 Vanille Dose 850 g
Shop Sponser Whey Isolate 94 Vanilla Can 850 g online at Beeovita. Made with natural ingredients, this lactose-free whey protein supplement provides high-quality protein for your fitness needs.
Available 3 pieces
Non refundable / non exchangeable.

Description
The whey protein isolate 94 from Sponser is characterised in particular by its high quality (170 according to Oser) and the gentle and natural production process. The CFM production process removes lactose and fat from the isolate. The result is a whey protein isolate without sugar and a very high protein content (90% in pure powder). CFM stands for Cross-Flow-Microfiltration and means a high-quality chemical-free production method of Whey protein.
Vanilla taste
lactose-free
low-fat and low-carbohydrate
Developed in Switzerland and manufactured in Ireland
Application
Mix 20-30g powder with about 200-300ml cold water or milk.
clues
In addition to a varied and balanced diet and a healthy lifestyle. The powder can be taken up to about 30 minutes before and after training, or as a supplemental protein during the day.
Composition of the
Nutritional values per 100g powder: energy (kcal) 1560(370), fat 1.5g of which saturated fatty acids 0.6g, carbohydrates 2.5g of which sugars 0.7g, protein 85g, salt 0.78g
Which packs are available?
Sponser Whey Isolate 94 vanilla can 850 g