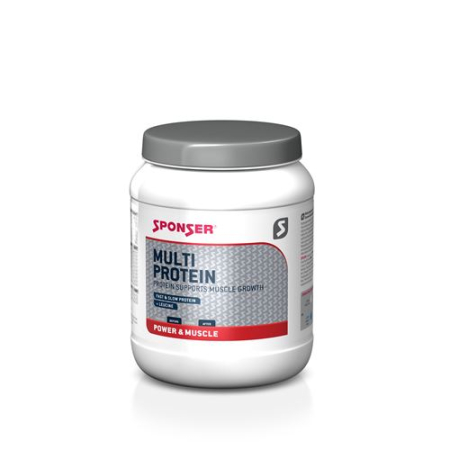 Sponser Multi Protein CFF vanilla 425 g
Sponser Multi Protein CFF Vanille 425 g
Get your Sponser Multi Protein CFF vanilla 425 g at Beeovita, your trusted source for healthy products from Switzerland. This sports drink is designed to support your fitness goals. Shop now!
Available 2 pieces
Non refundable / non exchangeable.

Description
Sponser Multi Protein CFF is a multi-component protein based on high-quality milk and whey protein from Cross Flow Microfiltration (CFF) and egg albumin. The protein supports the growth and maintenance of muscle mass and minimizes muscle breakdown after exercise. The physical processing methods using ultra- and microfiltration guarantee the natural protein quality and offer the highest biological value. Thanks to the specific combination of protein sources, you are offered an optimal amino acid profile with a high content of essential amino acids - including L-leucine. In addition, the shake is further enriched with 10 vitamins, calcium, magnesium and potassium.
Application
Intake ideally spread over the day or after exercise, mix approx. 2 measuring spoons with 250 ml milk. When preparing with water instead of milk, the amount of powder should be increased.