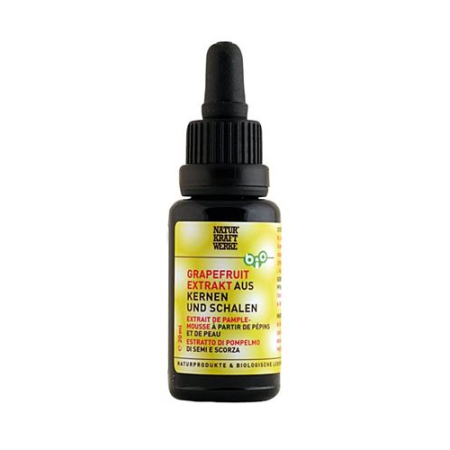 NaturKraftWerke grapefruit extract organic/kbA 20 ml
NaturKraftWerke Grapefruit Extrakt Bio/kbA 20 ml
Available 8 pieces
Non refundable / non exchangeable.

Availability:

In stock

Brand:

NATURKRAFTWERKE

Product Code:

2872922

EAN

7640110515525
Description
Naturkraftwerke Grapefruit Seed Extract Organic 20 ml
Introducing the Naturkraftwerke Grapefruit Seed Extract Organic 20 ml, a superior quality natural supplement ideal for enhancing your overall health and well-being. With a countless number of health benefits provided, this grapefruit seed extract is an invaluable addition to your daily health regimen.
About the Product
Grapefruit Seed Extract is made by raw-steeping the dried and ground seeds from the grapefruit tree. Naturkraftwerke's Grapefruit Seed Extract is 100% organic and non-GMO. This bottle of liquid extracts about a 100-day supply and it is considered to be one of the most powerful natural antibiotics and a natural preservative.
Health Benefits
Grapefruit Seed Extract has naturally occurring Vitamin C, fiber, antioxidants, and bioflavonoids. It is rich in natural antibiotic properties such as terpenes, benzoic acid, and flavonoids. The benefits of Naturkraftwerke Grapefruit Seed Extract include immune system enhancement, aid in digestion, maintenance of healthy cholesterol levels, and improved skin health. The anti-bacterial and anti-inflammatory properties of this extract are also effective in fighting infections.
Directions of Use
To use, simply mix with water or any other beverage of your choice. For the maximum benefit, use three times a day, up to 25 drops diluted in liquid. It is important to remember that Naturkraftwerke Grapefruit Seed Extract is a natural supplement and should not be used as a replacement for any medication without consulting first with a physician.
Overall, Naturkraftwerke Grapefruit Seed Extract Organic 20 ml is an excellent option to maintain your overall well-being by interfering with the growth and spread of harmful microorganisms without damaging the healthy ones. Give your body the boost it deserves with this powerful natural supplement.