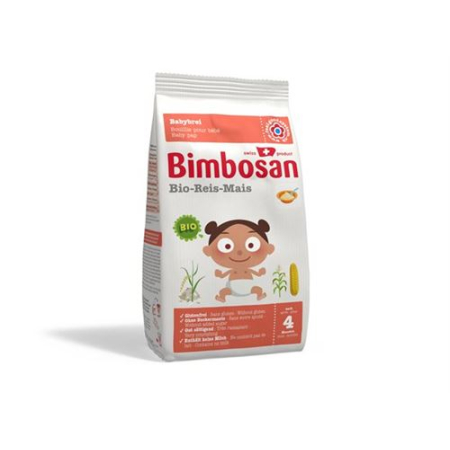 Bimbosan organic rice and corn refill 400 g
Bimbosan Bio-Reis-Mais refill 400 g
Available 33 pieces
Non refundable / non exchangeable.

Availability:

In stock

Brand:

BIMBOSAN AG

Product Code:

2367408

EAN

7610994000349
Storage temp.
min 15 / max 25 ℃
Description
In order for a child to grow up healthy and happy, it needs, in addition to a lot of love and attention, a wholesome and natural diet. Bimbosan has developed the feel-good system, which contains different categories:
filling

sensitive stomach

loosening the stool

stool stabilizing

sleep through the night
In this way it is possible to respond individually to the needs of the children.
Bimbosan organic rice is a gluten-free, natural bottle additive and porridge made from guaranteed organic rice for babies who are very hungry and have thin stools. The rice used for the product is of the highest quality and is organically grown and treated according to the strict Bud guidelines. The product does not contain granulated sugar and is suitable for the preparation of bottles and porridge if the child is no longer sufficiently saturated with the usual milk alone after 4 months.
Bimbosan organic rice helps to firm up your baby's bowel movements and to satiate the baby at the same time. Rice has been known as the second carbohydrate in infant nutrition for centuries and is also well tolerated by sensitive stomachs.
Bimbosan organic rice belongs to the feel-good categories of filling, stool and sensitive stomach.
Do not add the organic rice directly to the hot porridge, but directly into the ready-to-eat meal. Fruit and vegetable meals become more nutritious and filling with the addition of organic rice. It is also recommended that you give your child grated apples, bananas, carrots and potatoes if the stool is thin.