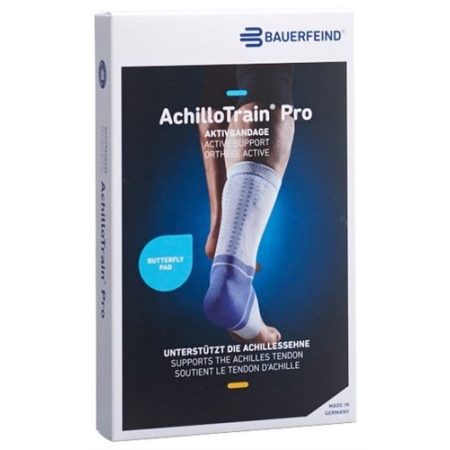 AchilloTrain titan Pro Active support Gr4
AchilloTrain Pro Aktivbandage Gr4 titan
Certified in Europe CE. Shop now for ankle dressings and body care & cosmetics.
Available 2 pieces
Non refundable / non exchangeable.

Description
AchilloTrain Pro uses a therapeutically effective combination of stabilization and mobility. By constantly alternating between compression and decompression during movement, healing is promoted and the interaction of nerves and muscles is improved. The integrated viscoelastic pad, which stimulates the tissue above the heel with soft nubs and longitudinal grooves, also contributes to this. Two additional wings on the right and left stimulate the upper third of the tendon and the muscle-tendon transition. The short knitted section in the metatarsal area prevents pressure points from developing, while the integrated stretch zones make it easier to put on and take off.
Areas of application
Achillodynia (tendinosis, paratendinitis, bursitis subachillea, (Haglund's heel))
Postoperative e.g. B. as a result of chronic diseases of the Achilles tendon / gliding tissue