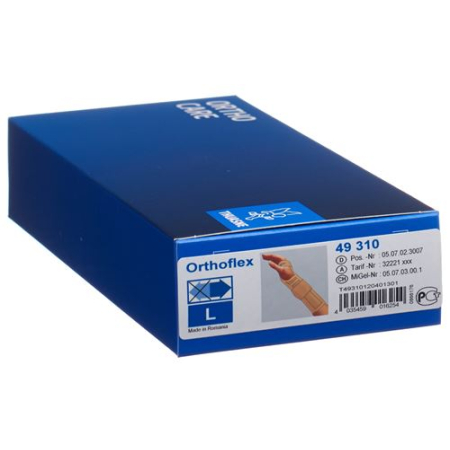 Thuasne Orthoflex wrist strap XS 21cm right skin color
Thuasne Orthoflex Handgelenkband XS 21cm rechts hautfarbig
Non refundable / non exchangeable.

Availability:

Outstock

Brand:

THUASNE D GMBH

Product Code:

1433824

EAN

4035459016292
Description
Product Description: Thuasne Ortho Flex Wristband XS 21cm Right Skin Color
Looking for a wristband that can provide support and stability to your wrist? Look no further than the Thuasne Ortho Flex Wristband! This wristband is designed to help alleviate pain and discomfort while providing stability and support to your wrist.
Features:
Flexible and lightweight design
Skin-like color for a natural look
Adjustable straps for a comfortable fit
Easy to wear and remove
Provides support and stability to the wrist
Size:
This Thuasne Ortho Flex Wristband comes in an XS size, measuring 21cm in length, and is designed for the right wrist. To ensure the best fit, measure the circumference of your wrist and refer to the sizing chart provided on our website.
Material:
The Thuasne Ortho Flex Wristband is made from a durable and breathable fabric that is designed to provide maximum comfort and support. The fabric is also hypoallergenic, making it safe for those with sensitive skin.
Uses:
This product is ideal for those with mild to moderate wrist pain, as well as those recovering from wrist injuries or surgeries. It can also be used to prevent wrist injuries during sports or other physical activities.
Care Instructions:
To ensure the longevity of your Thuasne Ortho Flex Wristband, it is important to take proper care of it. Wash the wristband in cold water and air dry. Do not use bleach or fabric softeners, and do not iron.
Order your Thuasne Ortho Flex Wristband today and start enjoying the support and stability your wrist needs!