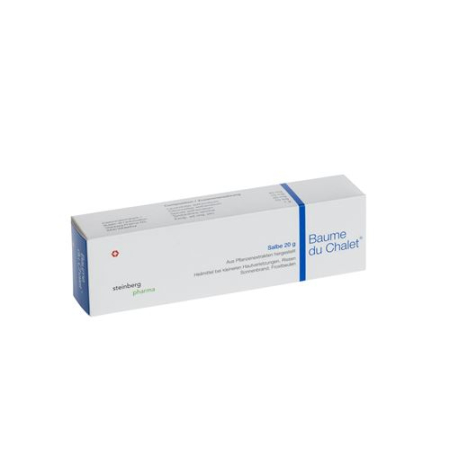 Baume du Chalet Ointment Tb 20 g
Baume du Chalet Salbe Tb 20 g

Gen
D03AX99LTEN000000040UNGT
Storage temp.
min 15 / max 25 ℃
Description
Baume du Chalet Ointment Tb 20 g
The Baume du Chalet Ointment Tb 20 g is a versatile ointment that provides relief from various skin issues. It is a natural ointment made with a blend of nourishing ingredients. This ointment has been specially designed to help soothe and heal dry, cracked, and irritated skin.
Ingredients
The key ingredients in Baume du Chalet Ointment Tb 20 g are:
Beeswax: Helps to create a protective barrier on the skin surface, preventing moisture loss,
Shea Butter: Contains high levels of fatty acids and vitamins that help to nourish and moisturize skin,
Jojoba oil: A natural oil that closely mimics the natural oils in our skin, helping to hydrate and soothe dry skin, and promote healing,
Essential oils: provide a pleasant scent and have anti-inflammatory and anti-bacterial properties.
Benefits
The Baume du Chalet Ointment Tb 20 g has numerous benefits. Here are a few of them:
Relieves dryness, roughness of the skin and reduces the occurrence of peeling and scaling,
Could help to reduce itchiness, inflammation and irritation,
Helps to protect the skin and prevent further damage by creating a barrier to external factors such as harsh weather, air pollution and irritants,
Could promote faster healing of minor cuts or abrasions,
Can be used on the face, hands, elbows, feet and other parts of the body where the skin is dry, cracked or irritated.
How to use
To get the most out of your Baume du Chalet Ointment Tb 20 g, apply a small amount to the affected area, gently massaging the product into the skin until it is absorbed. This ointment can be used as often as needed throughout the day to help soothe and moisturize dry, cracked, or irritated skin.
Precautions
Always read the label before use. For external use only. Avoid contact with eyes. In case of contact, rinse thoroughly with water. Keep out of reach of children. If any adverse reactions occur, discontinue use and seek medical attention.